Jayshree Periwal High School offers day, weekly and term boarding options to the students. The flexible options provided by the school have been designed keeping in mind the hectic schedule of the working parents.
ADVANCED PLACEMENT EXAMS 2023
TEST CENTER: JAYSHREE PERIWAL HIGH SCHOOL, JAIPUR
3, CHITRAKOOT SCHEME, AJMER ROAD, JAIPUR-302021
AP Coordinator's Email Address:
ankita.coord@jphschool.com
AP Coordinator's Contact Phone:
9829246133 (Please DO NOT WhatsApp, ONLY Email your query)
Mon - Fri, 09:00AM - 03:00PM
Registration & Payment Deadline:
Registration opens on FEBRUARY 1st, 2023 Deadline to pay and register is
March 5, 2023 (6:00pm IST).
Register for regular testing (May 1-12, 2023) exams. 
March 5, 2023 (6:00pm IST)
TESTING WINDOW (1 Feb 2023 - 05 March 2023)
Regular Testing (May: May 1–5 and May 8–12, 2023)
If a student does not appear for an AP exam 50% amount will be refunded but refunds will take place only after the exam.
No fee will be refunded for any no-show cases or refund applications received after 5th November 2022, 6pm IST.
Kindly note, that the refund amount will be disbursed only after the May 2023 AP exams conclude. (All transactions will be in INR only).
Please send an email to AP coordinator at ankita.coord@jphschool.com to get AP Exam Refund Application Form.
NOTE:   KINDLY CHECK THE COLLEGE BOARD WEBSITE FOR EXAM DATES AND SCHEDULE.
https://apcentral.collegeboard.org/ exam-administration-ordering-scores/exam-dates
The 2023 AP Exams will be administered as paper-and-pencil exams only over two weeks in May: May 1–5 and May 8–12. Early testing or testing at times other than those published by AP is not permitted under any circumstances.
This is the worldwide schedule that includes all AP Exam subjects. Our centre will follow the testing dates and times published, however we will not be offering the following exams: AP Japanese, AP Italian, AP Chinese, AP Spanish Language, AP French, AP German, AP Music Theory, AP Latin, AP Art and Design, AP Research, AP Seminar, AP Computer Science Principles.
REGISTRATION & PAYMENT INSTRUCTIONS
Complete ALL STEPS BELOW (register online and pay test center) by March 5, 2023 to reserve your seat. The Test Center will provide an AP Admission Ticket by 20TH APRIL 2023.
IF YOU REGISTER ONLINE WITH THE COLLEGE BOARD BUT DO NOT PAY THE TEST CENTER, YOU WILL NOT BE ABLE TO TEST. IF YOU PAY BUT DO NOT COMPLETE ONLINE REGISTRATION, YOU WILL NOT BE ABLE TO TEST.
Students must be enrolled in or affiliated with a secondary school (high school) to take AP Exams. Students in any of the categories below are eligible to test:

Students testing at the secondary school where they're enrolled.
Students enrolled at a secondary school but testing at another authorized school/test center.
Secondary school-level students who are homeschooled, participate in independent study, or attend a virtual school.
Younger students who are not yet enrolled in secondary school (i.e. below ninth grade) but are prepared to take an AP Exam.
Prospective exam takers who do not meet the above requirements and have a legitimate need for AP testing must request approval via email from College Board at aptestsecurity@collegeboard.org , prior to registering with a test center.
I acknowledge that I will be under 21 years old ( born after May 31, 2002) at the time of taking any AP Exams in 2023
I acknowledge that I will need to pay the test center and register online with the College Board by the stated deadline to complete my AP Exam registration and receive an Admission Ticket from the test center, or I will not be able to test.
I acknowledge that I have read and agree to test center policies above, with respect to payment deadline, payment instructions, refunds and cancellations.
Additional testing policies
You can take any or all of the 4 physics exams in the same year.
You cannot retake an exam in the same year, although you may retake it in a subsequent year.
You cannot take both Calculus AB and Calculus BC in the same year.
You cannot take 2 exams scheduled at the same date and time. Decide which exam you wish to take first and then take the other exam during the next testing window.
AP Exams at test centers are paper-and-pencil based and administered in person at the test center. In-person digital exam options are not available for students outside the U.S. at this time.
IMPORTANT ID POLICY UPDATE
ID Policy for test centers in India:
Please plan any ID processing and applications in advance. Ensure you have acceptable ID to bring to the test site on exam day or you will not be able to test.
AP-authorized test centers in India will only accept original, valid passport as ID for entry to the AP Exam administration.
If original, valid passport is not available, then student must have the Aadhaar in either original Letter format or the PVC version with hologram only (both received from UIDAI). No other Aadhaar versions will be accepted.
A sample of the letter version is shown on the left; it's the entire piece of paper and not just the card portion at the bottom. The PVC card sample is on the right.
TO START: Use a phone, tablet, or computer to complete registration online with the College Board (Steps ❶ -❺)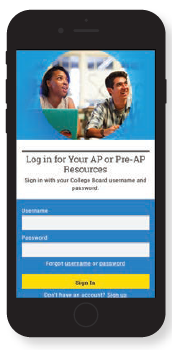 SIGN IN TO MY AP
Sign in to myap.collegeboard.org using the same College Board student account login you have used to view AP, SAT, or PSAT scores, or to register for the SAT.
Forgot your login info?  Follow the "Forgot username or password?" links to reset them.
Don't have a student account yet? Click the Sign up link. IMPORTANT: Create your College Board account using the same email you will provide to the test center.
JOIN AN EXAM
Click the Join a Course or Exam button.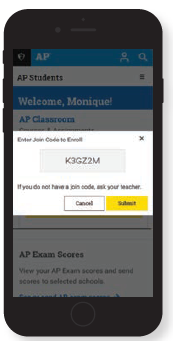 SUBMIT YOUR JOIN CODE
Check the India AP Exam schedule on http://ap-india.org. Enter the unique join code for each regular or late testing exam you wish to take at this test center and click Submit. (Repeat for each exam you wish to take.)
| Course Name | Active Join Code |
| --- | --- |
| AP Biology | J76MQG |
| AP Calculus AB | N7D3VP |
| AP Calculus BC | 6RV9EZ |
| AP Chemistry | G97EYP |
| AP Comparative Government and Politics | QZEGNA |
| AP Computer Science A | ZQLWV3 |
| AP English Language and Composition | P6GJW6 |
| AP English Literature and Composition | JDZZ7V |
| AP Environmental Science | MDZDMX |
| AP Human Geography | R4L2GX |
| AP Macroeconomics | 4DY49M |
| AP Microeconomics | 2WNY9E |
| AP Physics 1 | E3NYN7 |
| AP Physics 2 | NV4A2L |
| AP Physics C: Electricity and Magnetism | W3WAR9 |
| AP Physics C: Mechanics | 6XDXA3 |
| AP Psychology | ZLP62Z |
| AP Statistics | W2G3J4 |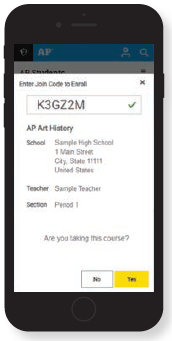 VERIFY EXAM INFORMATION
Confirm the exam name, exam date, and test center name are what you want.
Click the Join a Course or Exam button.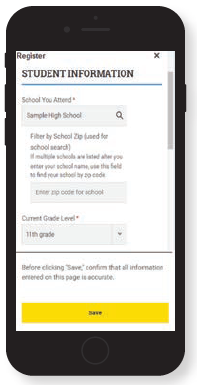 FILL OUT REGISTRATION INFORMATION
The first time you register in My AP, you'll need to fill out some registration information. Provide accurate information – this will be on your personalized AP labels for exam day. You only have to do this once.
Repeat steps  –  for each exam you wish to take.
FILL OUT REGISTRATION INFORMATION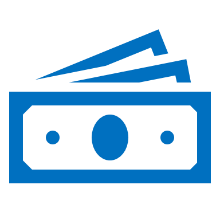 PAY TEST CENTER WITHIN 3 BUSINESS DAYS OF COMPLETING ONLINE REGISTRATION OR BY March 5,2023, WHICHEVER COMES FIRST. EMAIL YOUR PAYMENT DETAILS TO THE TEST CENTER COORDINATOR SO THAT THE TEST CENTER MAY MATCH YOUR PAYMENT TO YOUR ONLINE REGISTRATION.
FILL IN THE INFO BELOW AND EMAIL TO THE TEST CENTER COORDINATOR:
Student First Name: _________________________________ __________________________
Student Last Name: _________________________________ __________________________
Student Primary Email (same as on your College Board account): _________________________________
Student Mobile: __________________________
Student Date of Birth (DDMMYYYY): __________________ (see age acknowledgement below)
List All Exams You Registered for Online:  
REGULAR TESTING:    1._______________________________ ______
2._______________________________ 3.____________________________
4._______________________________ 5._______________________________
______________________________ 
______________________________ 
How will you pay?    Demand Draft    Bank Deposit/Bank Transfer* (NEFT)   Ch_
DD or Bank Transfer No. (as applicable)         _______________________________
DD Issuing Bank or Bank Name (as applicable)         _______________________________
ONLINE PAYMENT DETAILS: 
HDFC, BANK ACCOUNT NUMBER: 50100081384081 , BRANCH- CHITRAKOOT BRANCH, JAIPUR, IFSC CODE- HDFC0003769, ACCOUNT TYPE- CURRENT.
Test Center Bank Details: BANK NAME: HDFC, BANK ACCOUNT NUMBER: 50100081384081 , BRANCH- CHITRAKOOT BRANCH, JAIPUR, IFSC CODE- HDFC0003769, ACCOUNT TYPE- CURRENT