With each passing day just as imminent as the reddening of the horizons new niches are being created. At JPHS, new benchmarks are being set on a front of education, sports and co-curricular activities at recognized platforms such as the competitive exams, board exams and interschool events.
Over the years since its inception JPHS has grown from strength to strength in various interschool competitions and has now become the torch bearer in various categories for creativity and consistency in remaining at the Top. From debates to play or from poster making competitions to Jewelry designing, our students have carved a niche for themselves. (Table with records)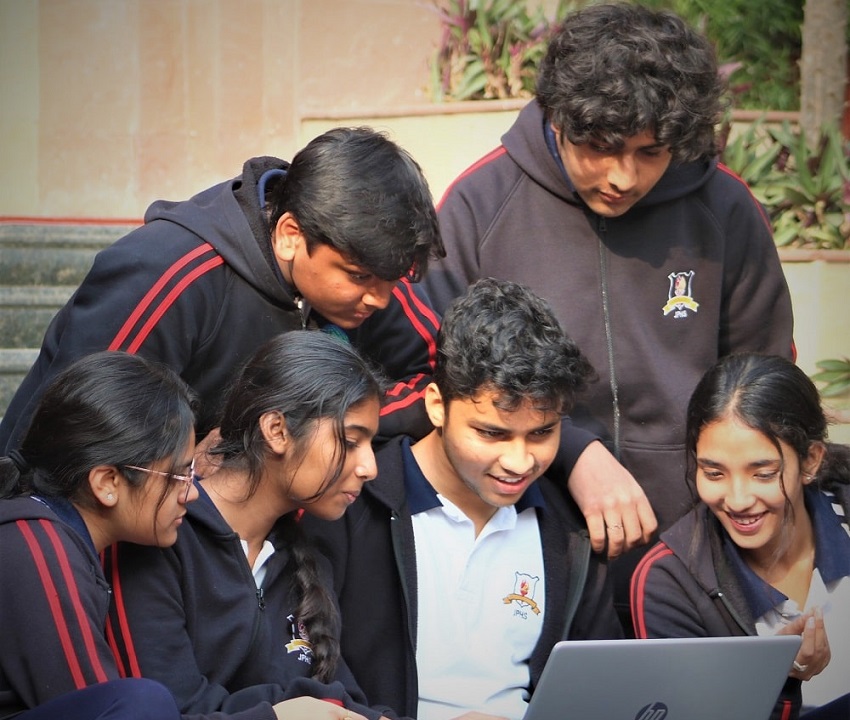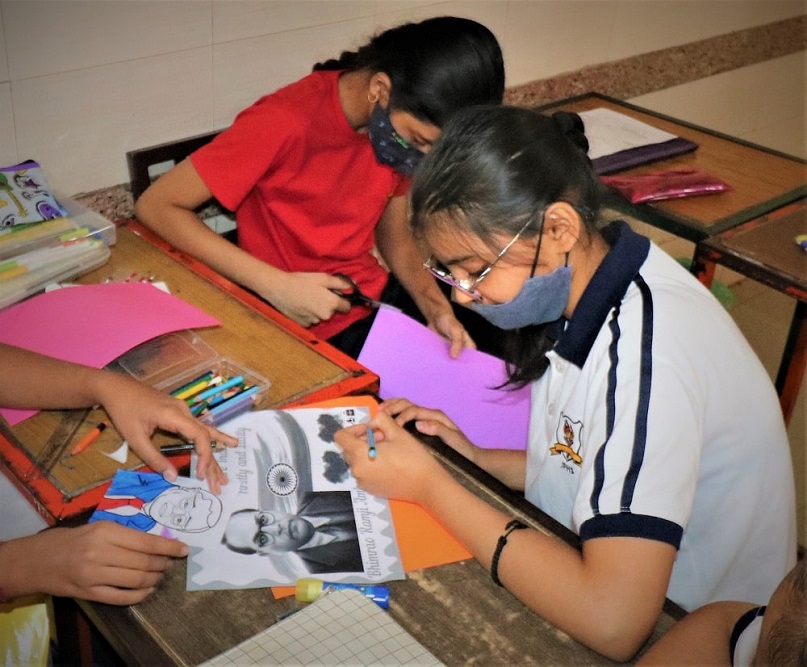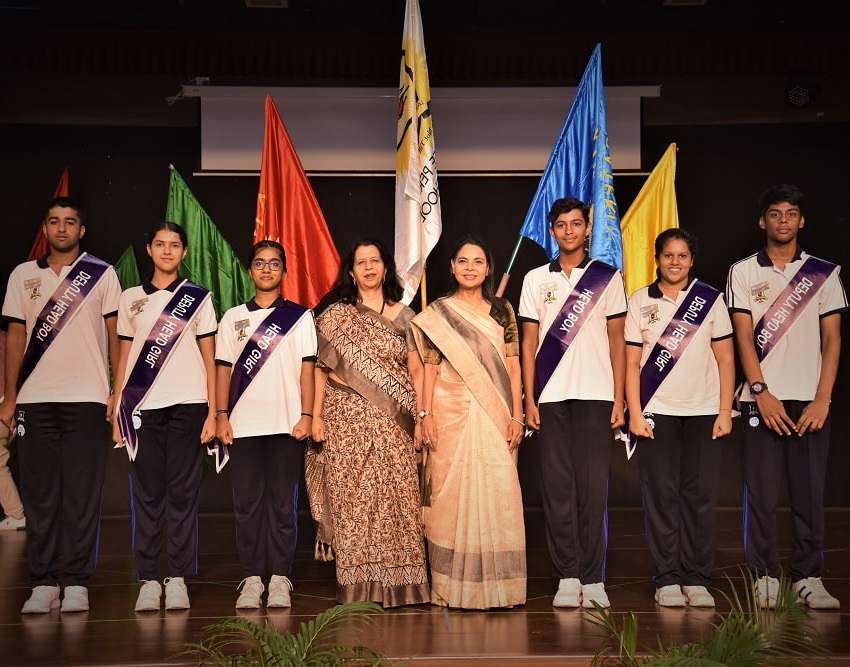 Jayshree Periwal High School
Inter School Achievements
ACTIVITY ORGANISED BY
POSITION
WINNER
St. Xavier's- Essay Writing
II
Navya Sahai
Sawai Man Singh School- Dance
I
Muktansh Bari, Soumya Maheshwari
One Act Play
I
Sarthak Ratnu, Pranay Choudhary, Shantanu Singh, Mohit Mittal, Tanya Mishra
French Song
I
Komal Gera, Shreya Rustagi, Raghav Bhardwaj, Harshit Sandhu
Rajasthani Folk Song
II
Pulkit Saxena, Pratyush Chaturvedi, Disha Jangra, Palak Singh, Suhani Tandon
T-Shirt Designing
II
Aanchal Agarwal, Meenal Singh(Overall Trophy Won by JPHS)
Maharaja Sawai Bhawani Singh School- Image Editing
I
Manthan Mitesh Tolia, Manas Agarwal
Photography
II
Shikhar Bhardwaj
French Enactment
II
Shreyasee Kaushik, Medha Kothari, Tanay Goyal, Shrishti Vashistha, Neha Dadhich, Kshitij Khandelwal
Scindia School Gwalior - E-Painting
II
Kumkum Shree Chahuan
Science News letter
II
Daksh Luthra, Ripudaman Singh
JAM
II
Shweta Vaishnav(Overall trophy won by JPHS)
Jayshree Periwal High School(Flair Fest)- Group Recitation
I
Catherine Angela Viego, Abhik Choudhary, Alyssa Kakkar, Apurv Chordia, Ojasvita Debhazra, Tubhyam Sarawgi
What's the Good Word- Quiz
I
Shreyas Gupta, Harshita Jain
Journey of Your Idol
I
Anirudh Singh, Gopaladitya Shekhawat
Dance Drama
I
Aarushi Khurana, Muktansh Bari
Design a Book Mark
I
Tarang Chhabra, Khushboo Meerchandani
Spellathon
I
Tanaya Tank, Vitul Bhatia
JAM
I
Ananya Gaur
Rock Band
I
Ambica Naithani, Pranjal Sharma, Avdesh Gaur, Arjun Chauhan, Shayak Banerjee
Mask Making
II
Nandini Taldar, Tanmay Salecha
Board Decoration
II
Manini Shrivastava, Karishma Surana, Gurmehar Kaur, Kartik
Nukkad Natak
II
Divyansha Soni, Ananya Ratnu, Nandita Johari, Prateek Rao, Raima Kukreja
Creating an Ad
II
Yaashi Jivnani
Advertise and Promote
II
Muskan Gupta, Garima Poonia, Paridhi Tambi
MGD School- Quiz
II
Shantanu Singh, Dhairya Sharma, Shreyans Malani
Intach India Heritage- Quiz
II
Arinjay Bisht, Divam Kesharwani
T-Shirt Designing
II
Aanchal Agarwal, Sakshi Katta
St. Angela Sophia- Poster Making
I
Kumkum Shree Chauhan
Caricature
I
Aanchal Agarwal
Maheshwari Public School-Power Point Presentation
II
Ananya Gaur, Snehal Singhania
Subodh Public School-Fables
I
Deekshita Saini, Ishita Sarawgi, Lokashi Singh, Nehal Jain, Advika Gaur, Aarav Bothra, Mannat Siwach, Ishaan Vashishtha
Dance
II
Aarushi Khurana, Smahi Singh, Muktansh Bari, Gokul, Muskaan Sharma, Abhinav Shekhar, Palak Dusad
Ryan International School-Dance
I
Manini Shrivastava, Shreya Rustagi, Sparsh Gautam, Muktansh Bari, Paridhi Tambi, Abhinav Shekhar, Shreyansh, Muskaan Sharma
Rukmani Birla Modern School-Folk Dance
I
Pulkit, Manthan, Shresth, Abhimanyu Charan, Pushpendra, Muskaan, Paridhi Pandey, Arushi Khurana, Vaishnavi, Priyanshi, Riddhima Kabra, Abhinav Ahlawat, Chitra Shekhawat, Charushi, Abhinav Shekhar, Rohan Takhar
Pin Board
I
Kartik Agarwal, Yashita Sodhi, Gurmehar Kaur(Overall Trophy Won by JPHS)
Janki Devi School-Debate
I
Pratyush Chaturvedi
II
Gopaladitya Shekhawat
Slogan Writing
I
Divya Choudhary, Mrinal Pareek
Finger Arts
I
Aviral Tiwari
What's the Good Word Quiz
II
Satvik Bansal, Krishna Agarwal
Not to leave the Model United Nations, which the school hosted and was participated by more than dozen schools from across India. Our students shone brilliantly even here. From planning to execution, the students exhibited not only amazing leadership skills but also effective organizational skills (Table with records)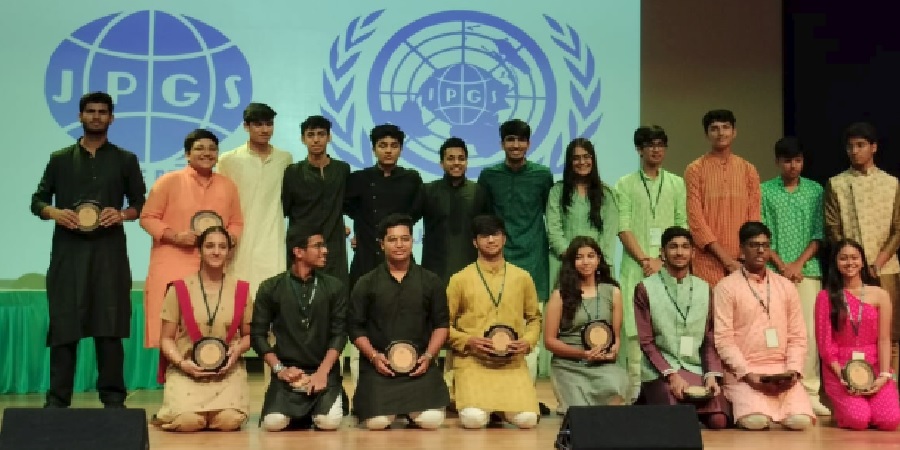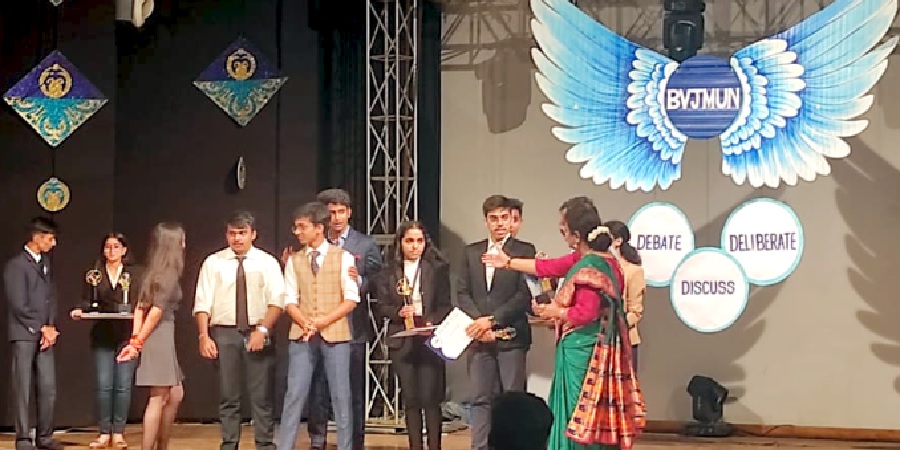 Jayshree Periwal High School
Model United Nations
ACTIVITY ORGANISED BY
POSITION
WINNER
IIMUN
I
Shreyans Malani, Kajal Sood, Mahiraj Khangarot
II
Shree Harsha Nelaturu(JPHS won the Best Delegation)
III
Arinjay Bisht, Ambica Naithani, Tanya Mishra, Priyansh Sethi, Sanchit Sharma, Sankalp Jain
Vivek High School, Chandigarh
Best Delegate
Ambica Naithani, Shantanu Singh, Ahalya Rajesh
Special Mention
Shantanu Singh, Ahalya Rajesh
Special Mention
Tanisha Goel
Best Position Paper
Satvik Jain
JPHS won the prize for Best Delegation
Modern School
Best Delegate
Ambica Naithani
Special Mention
Pritika Nag, Sakshi Prasad
Verbal Mention
Arinjay Bisht
Jayshree Periwal High School
Special Mention
Shantanu Singh
Secretary General
Shantanu Singh
Award
JPHS won the prize for Best Delegation
Rukmani Birla Modern High School
Best Delegate
Abhigyan Gandhi
High Commendation
Devangana Rathore
Special Mention
Anand Modi
Verbal Mention
Saisha Ajmani & Kunwar Sahi
Award
Akshita SharmaJPHS won the price for best delegation
We mobilized Students and teachers alike for Swatch Jaipur Mission to create social awareness amongst its citizenry. And we employed creative means like "Nukkad Nataks" and "Role Plays" to create connect with the local populace and communicate the importance of cleanliness.
Our effort in keeping the Hawa Mahal, an important symbol and pride of Jaipur, clean and beautiful was ably lauded by the Chief Minister and other government dignitaries.
Our student community took part in a sustainable social development plan initiative floated by the India First Life insurance company along with Bank of Baroda in which their project proposal was not only accepted but also funded to create a campaign against the use of plastics which are non recyclable. The project also included the students coming up with an alternative to the plastics in a sustainable manner. The project was named as Green scouts. Infact it was more than a project, it actually became a movement among the student community in Jaipur.